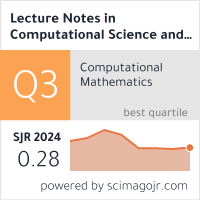 If you are planing to participate, we cordially ask you to submit an abstract early to allow us for better planing; the full paper can be uploaded later within the paper submissions deadline.
Proceedings
Accepted proceedings papers presented by participants will be published in Lecture Notes in Computational Science and Engineering. Program Committee will invite extended versions of selected papers for submission to Computational Mathematics and Mathematical Physics.
Acceptance criteria
The final publication acceptance decision will be based on the results of the peer-review process and the presentation of the paper at the conference. Each paper to appear in the proceedings has to be presented at the conference by at least one of the authors. Each participant can present only one paper.
Deadlines
August 16: paper submissions due
Sep 27: initial acceptance notification
Oct 11: revision submission due
Oct 25: revision acceptance notification
Nov 25–27: presentation at the conference
Nov 29: final acceptance notification
Dec 13: final, camera-ready submission due
Format requirements
A paper should be limited to 10–12 pages.
The proceedings language is English.
Please use the LaTeX template/guide: numgrid2020-latex.zip (see also Springer Key Style Points).
Final, camera-ready papers must be submitted using this template.
---